I've been a boat owner for a very long time. I bought a car the year I graduated college, Isabella, and the following year, I bought my first new boat.
It's a wonderful activity for so many reasons. It's a lot of fun. it gets you outside and not just outside but outside and on the water. There's nothing better than being on and around water.  ...and the more water, the better. There's lots and lots of water in the Atlantic Ocean. We sometimes vacation on the boat and when we travel with the boat, our dogs accompany us.
This is our current boat, a Sea Ray 330 Sundancer. At the time, Sea Ray called her a 33' boat, although today they would call her a 36. I guess with the rapidly rising prices of new boats, they have to make it seem buyers are getting more boat for their money.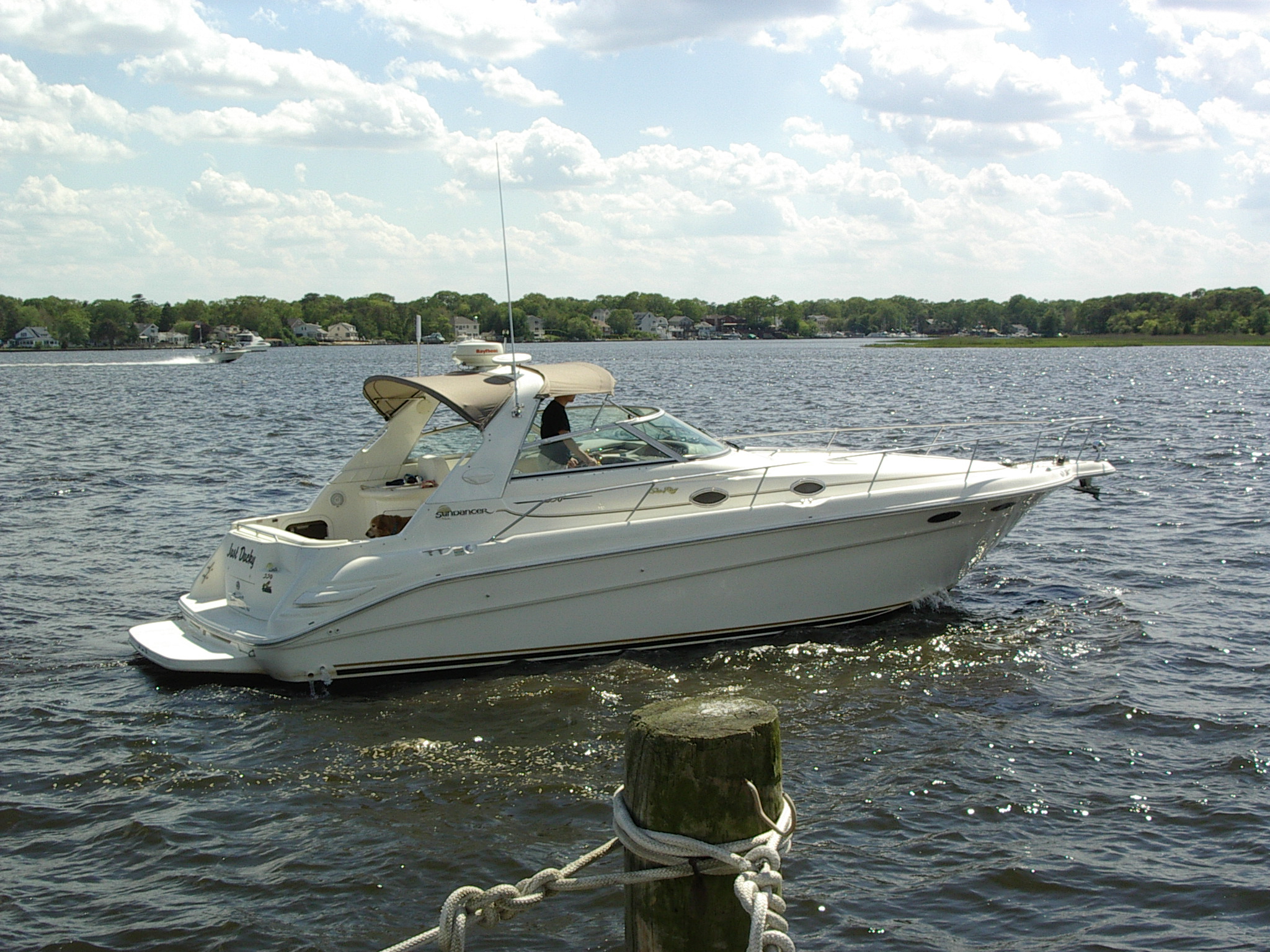 We purchased her new. When we were married, I had a smaller, 26 foot Wellcraft that I bought a few years earlier. It was a nice boat, but with two of us and a dog, it was a little bit small at times. Worse, the 26' had a single sterndrive that not only was terribly maintenance intensive, but also failure prone. The penultimate year we owned her, we had a drive failure in August that required a haul-out, which ended the summer early for us. The last year we owned that boat, while heading to Ocean City, MD, the gimbal bearing froze while Ducky and I were out on the ocean, about a mile or two east of Seaside. Poor Ducky started to get seasick; it was more than an hour for the tow boat to finally reach us and then it was a very slow tow back to the marina. Thank goodness for unlimited towing insurance!
That experience was the last straw. We started looking for a new boat. I knew what I wanted in my next boat, which included not only good build quality, but also quality materials and finishing. Some of the cost saving materials Wellcraft used didn't age well; I wanted to avoid that problem. Non-negotiable was the next boat would not have sterndrives, would be twin-engined, and have either V-drive or straight inboards. The Wellcraft had air conditioning that I installed a year after I bought her, having learned that even the shore can be too hot in the evenings; however, she did not have a generator. No generator meant the air conditioning only worked when connected to shore power. A genset went onto the must have list. I also wanted an engine room that was spacious enough that maintenance could be performed easily.
We saw many boats at dealers and at boat shows. We decided we liked the Sea Rays and one dealer had two new ones that were nearly identical. This one, that we bought, and another that was virtually her twin except she had the biggest engines available but she didn't have the cherry finished interior. We both really liked the cherry finish and learned the middle sized engines were more than sufficient, so we signed the papers.
| | |
| --- | --- |
| Taking a ride on the Atlantic Ocean. | Barnegat Lighthouse "Old Barney" |
| Heading into Atlantic City, from the ICW. (Intracoastal Waterway) | Leaving Atlantic City via the Atlantic Ocean from the Abescon Inlet. |
Our dogs like the boat, too.
A group of friends would plan a rendezvous in Atlantic City each summer. One long weekend in July would bring thirty or so boats coming from as far north as Connecticut and Virginia in the south; a total of about 100 people to enjoy the weekend. We would, of course, bring the dogs with us, as we did when we traveled to other locations, such as Cape May.
| | |
| --- | --- |
| Mason watching Old Barney go by... | Mason relaxing at the helm, where he is not supposed to be! |
| Mason and Chloe awaiting departure. | Tucker in Atlantic City begging for a piece of my cookie. |
And, of course, we do see many... interesting things.
After enjoying lunch at the Lobster Shanty, we looked out the Manasquan Inlet to see the surf, which was forecast to be pretty rough. I wanted to see if I could get a few good photographs of the breaking waves.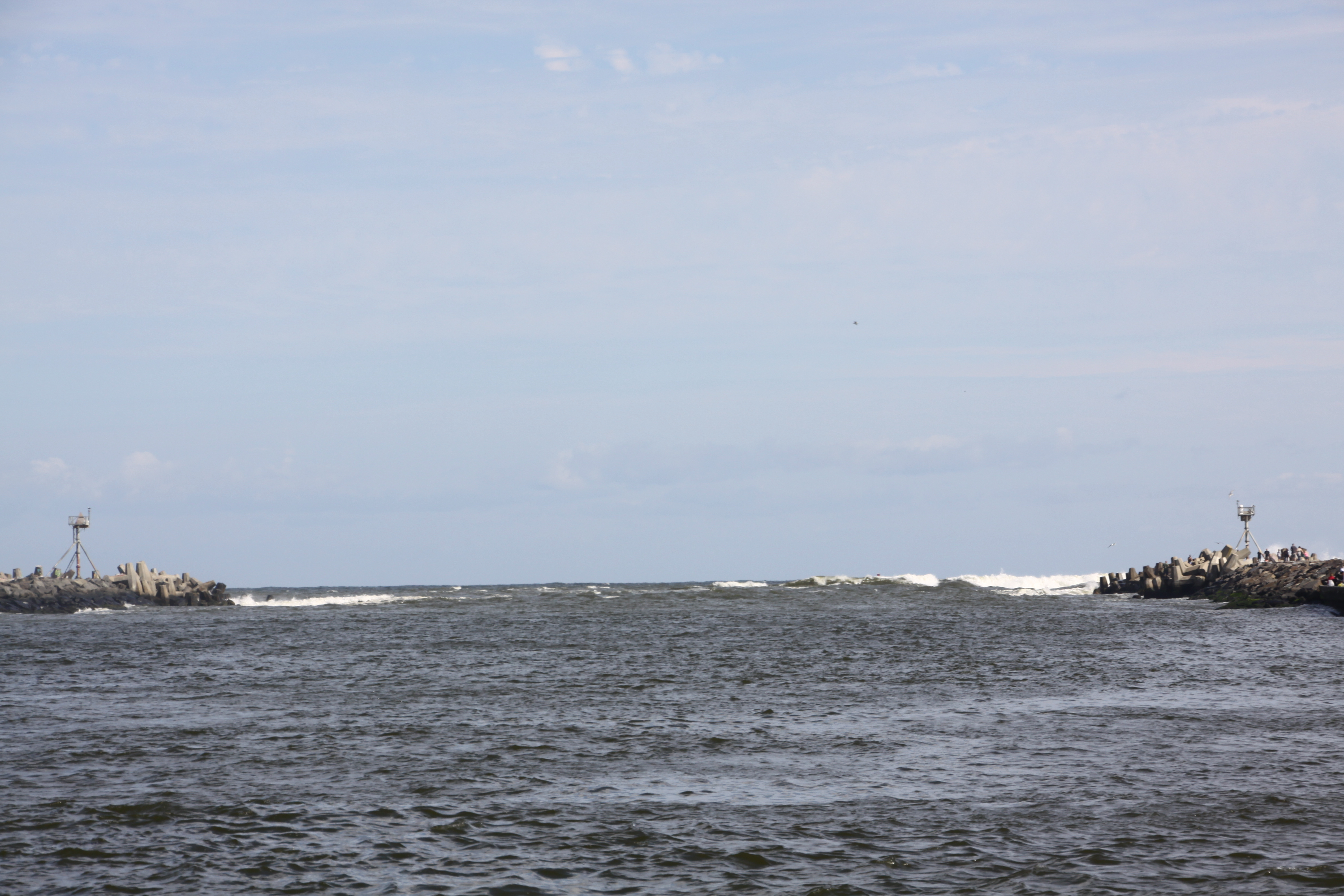 Normally traversing the inlet is very easy and not at all dramatic. But that day it was crazy. While I was photographing the surf, a little Bayliner was heading out the inlet into the breaking surf. I guess someone didn't get the small craft warning on his VHF. Worse, the boat appears to have about 10 or 12 people aboard, which would mean that it was overloaded. 
I was very happy to see the captain execute a quick about-face in the inlet before he reached the rough stuff. A small, open bow boat with little freeboard that's overloaded had no chance at all in those conditions.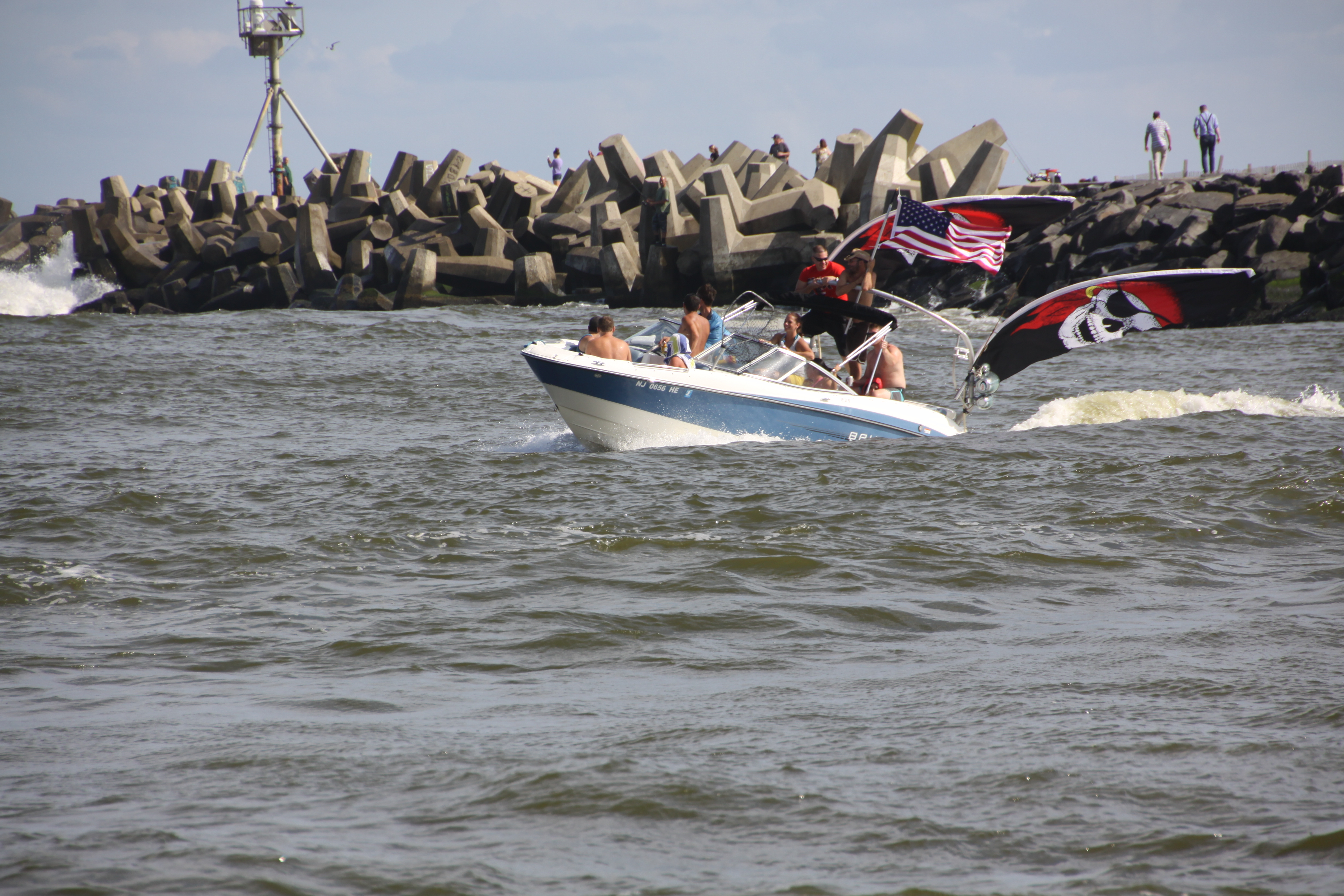 On the other hand, that same day we saw our friend, and my guests' son, Sean sailing his Hunter 35.5 on the river. Despite being a good two miles inshore, the wind was still brisk and he was enjoying some good wind.