We have shared our home with a number of dogs over the years. They were all good dogs, interesting and unique. They all definitely have their own personalities!
We adopted Ducky first. He was living outside on a farm in Pennsylvania before we adopted him. He was covered with ticks and needed a good bath and grooming. A very smart dog, he kept us on our toes. He had liver problems and later cancer, both of which we treated. His vet loved him so much that when he spent the day there for tests or treatments, he didn't stay in a kennel. Instead, he lounged on the sofa in her office.
We also suspected that he was reclining on the sofa in the living room, but neither of us ever saw him on it. We were going to have to be clever to catch him in the act; instead of pulling the car into the garage as I normally did when arriving home, I parked in the driveway and walked around to the back of the house. Peering though the windows, I saw him on the sofa and knocked on the glass. I told him that he was in big trouble. He never did that again!
After we lost Ducky, we found Burnie née Bruno, at an animal shelter in Edison, NJ. He was a very sad doggy when we met him, but he perked right up when we went to him and took him for a walk. At the end of the walk, as I was hemming and hawing about adopting him, he sat directly in front of me, getting into a begging position with his front paws crossed. He came home with us that afternoon and was the best dog.
One thing we couldn't have, though, was the name Bruno. We thought of other names but nothing suitable until our nephew Matt suggested Burnie, which fit him. And, even better, he took to the name almost immediately. A couple cookies probably helped.
Burnie never did anything bad. He was agreeable to everything. He was so agreeable and listened so well that pretty soon after adopting him, I took him outside to play fetch. Threw the ball and Burnie chased after it. And kept going. Once I explained the situation to him, he never wandered and I never had to walk him on a leash. 
A bit of a "defect" for a Golden Retriever, Burnie hated water. He didn't swim and when he fell from the boat into the bay or river, he would panic. We learned what panic looks like on a dog's face because of those events. He also didn't like stairs and refused to go up or down long staircases. He was okay with 4 or 5 stairs but not much more than that. As long as he didn't have to go on stairs or into the water, he was a happy fellow.
After we lost Burnie, we looked for another rescue dog, but weren't able to find one who was not a senior. We wouldn't have minded adopting a senior, but dogs don't stay with us for a long time and we didn't want to lose another one too soon. We really wanted a younger dog.
We adopted Mason at nearly four months old. Mason is a dog who tests the limits. He's a good boy, but he always is into something.
A few years later, we thought Mason would appreciate some company, and we adopted Chloe, a senior American Eskimo Dog. She was a very smart dog and very calm, which is unusual for an Eskie. She did like to bark, but that isn't unusual for the breed.
Chloe's previous owner had her since she was a puppy, but work and family obligations kept him away from her for many hours each day; he wasn't able to be there or take care of her properly. We talked to him about adopting her and he brought her to our house to meet us and Mason. She was shy, but fine with Mason. It was weeks before we heard from him again. He said he was having a hard time giving her away and that he also had interviewed other potential adopters, but thought we had the best home for her.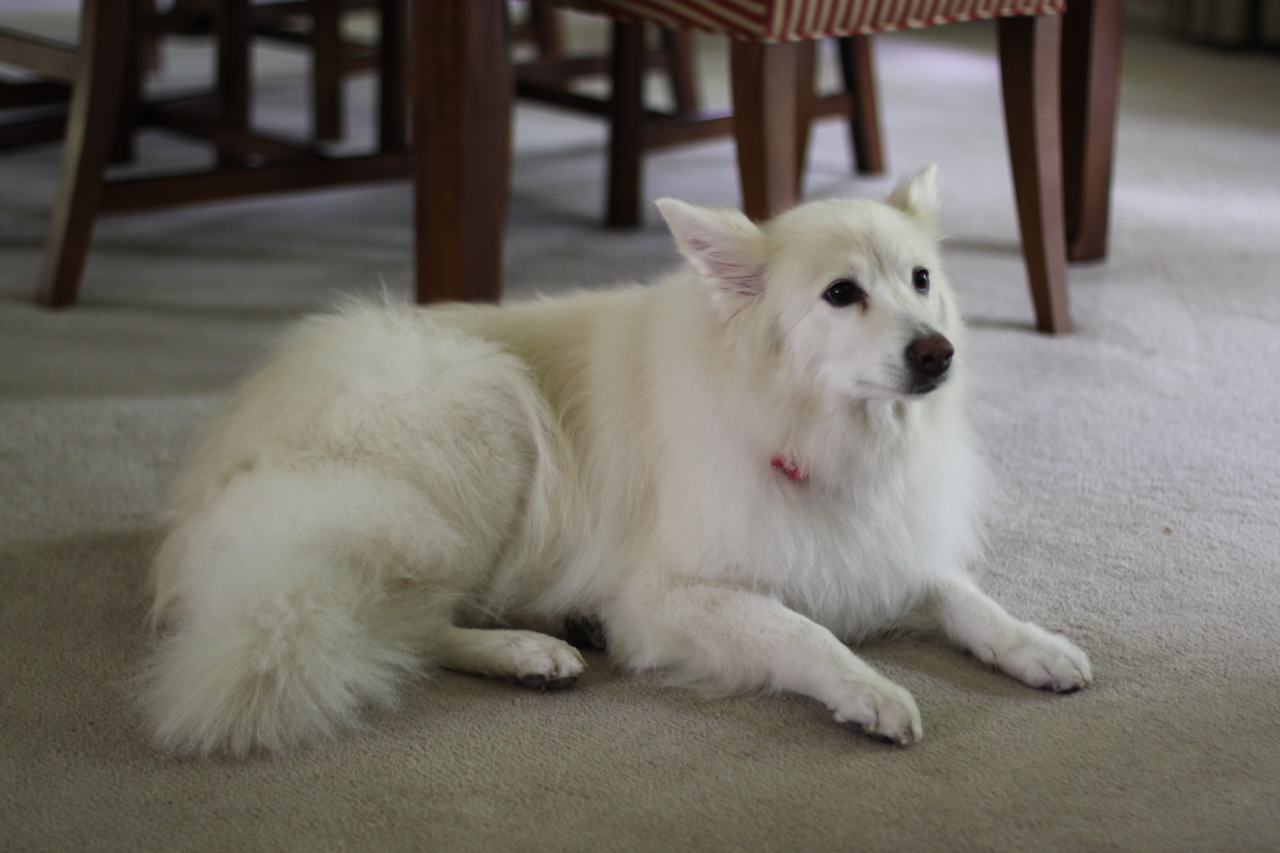 When we lost Chloe in 2018, Mason seemed very sad to have lost his dog; we decided to get him another. We like the Eskie personality; thus, we looked for another American Eskimo Dog. We found Tucker at a shelter in Sayreville. Mason liked him right away and so we adopted him that day. He's very spunky!
We also renamed Tucker because his name before was "T," which we thought odd. He started answering to Tucker pretty quickly; although I also sometimes call him Arf. Actually, that should be ARF! He barks a lot, but he's cute so we excuse his sometimes rude behavior.