One of the advantages of digital photography is the ease of image manipulation. The standard tool that photographers have been using for ages is Adobe's Photoshop. It's a good tool. It was a good tool back in the 1990s when I was selling high-performance Windows NT 3.51 workstations to the prepress business in NYC.  But I never found Photoshop very intuitive. Worse, Adobe only rents their software, which is okay for a pro who edits hundreds of photos each month, but it's a little ridiculous value-wise for the amateur who might only edit a handful of images in the same period of time.
When I saw Serif present the Affinity Photo's beta program, I jumped into the beta. Affinity Photo is good. It's not simply good, but Photo is very good. Then when one considers that the program is available for a one-time license fee of only $50, it's an exceptionally good tool. The program does everything that I need and much more.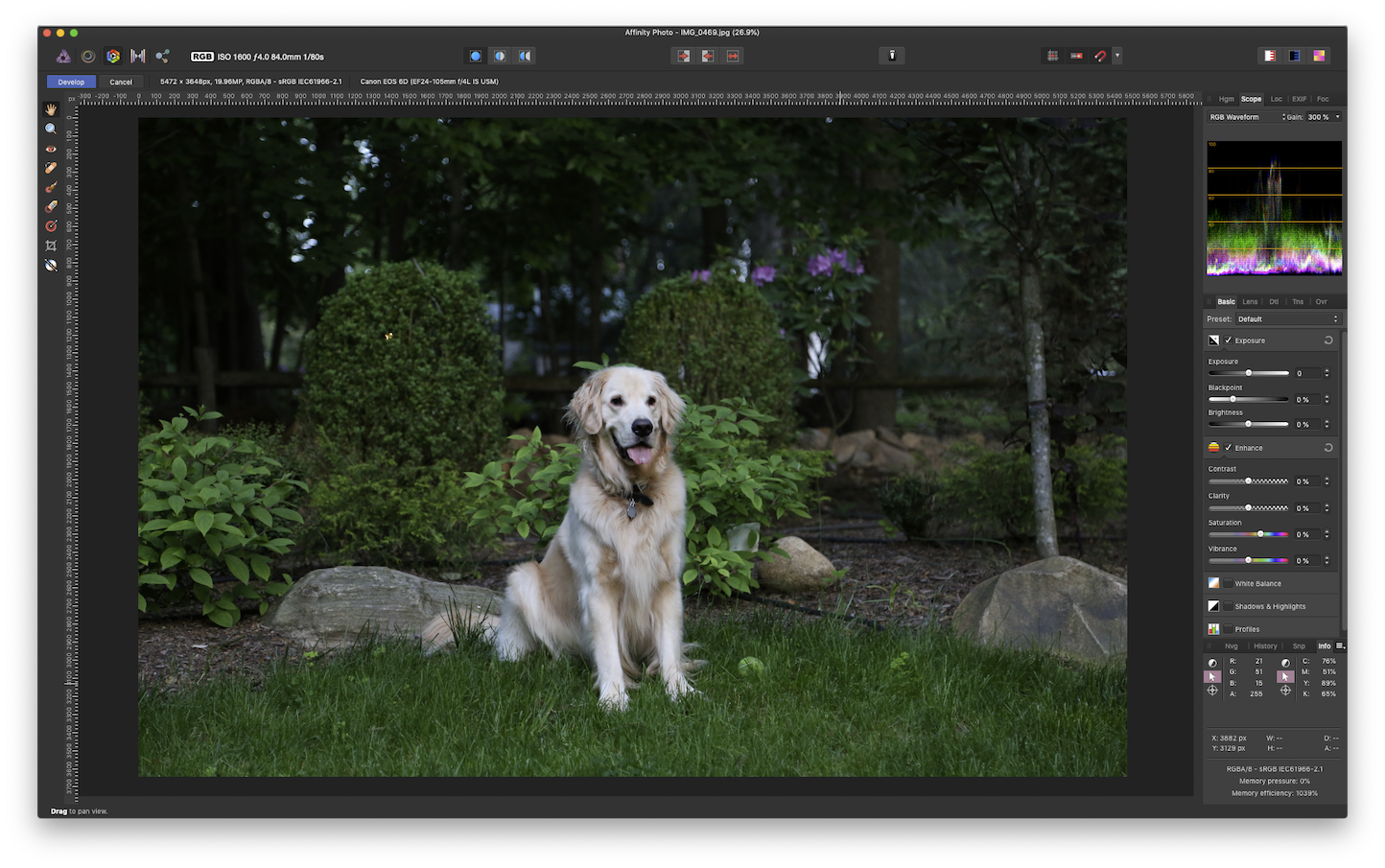 This was a very nice photo as processed by Canon's Digic engine. But using Affinity Photo, I was able to improve the photo by adjusting the various exposure and enhancement settings. 
Nota: They show zero percent adjustments because I already saved the changes.
But Photo is more than fixing and enhancing image exposures. Here Photo is stitching together multiple images taken in the US Capitol building to create a single panoramic view.
Starting with these six images.





Affinity photo creates this panorama. I still should apply a warp to get the tops of the columns to line up correctly. I did warp where it says "Library of Congress" but I left the rest alone to show how perspective distortion is corrected.
This is a great feature! Don't have a wide enough wide angle lens? That's not a problem because by taking several overlapping images, the full view can be captured. Even better, since it is multiple images, it's captured in exquisite detail. The original photos are 3648 × 5472 pixels, which are too big for the web. Therefore I compressed them and used smaller images for this demonstration.
The stitched together photos are each 853 × 1280 pixels. After processing them together into a single image, the image is 2756 x 1019; I cropped a little height from the completed image. If I used the originals from the EOS 6D, the final photo would have been 11,787 x 4,358 pixels, which is in excess of 50 megapixels. So even if I had a really wide angle lens, I wouldn't have had as many pixels to create as finely detailed an image.

There's much more that can be done. I have not mentioned High Dynamic Range stacking or Focus stacking. Both are extremely useful techniques, which I hope to address soon. There are many capabilities in Affinity Photo that I have only barely addressed, but for $50 for a license, it's a great value that I recommend without reservations to all photographers.
See their website for more information.